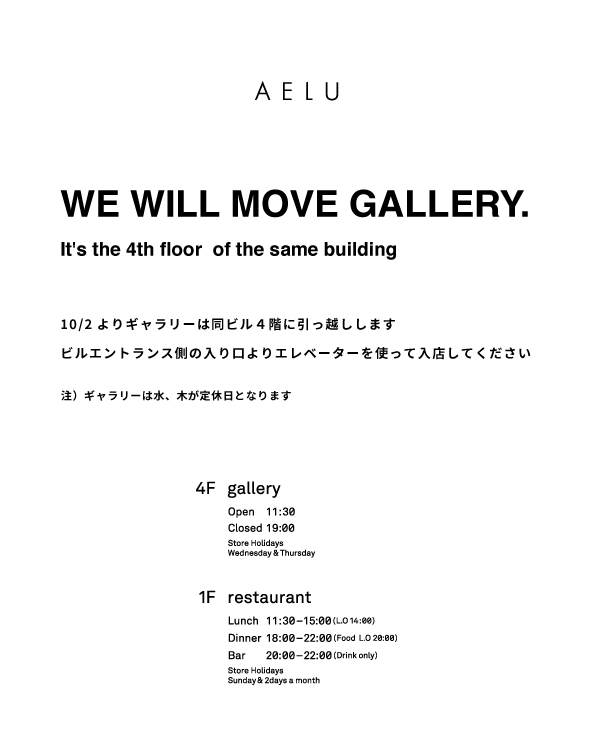 いつもご愛顧誠にありがとうございます。
10/2よりこれまでレストランと併設していたギャラリーは同じビルの4階に引っ越します。
アエルのコンセプトは今までと同じです。
私達が表現するレストランは食とうつわの密接な関係を体験することができますので
引き続きお楽しみください。
オープンは10/2です。
広くなったスペースで素晴らしい作品をどうぞご高覧くださいませ。
※ギャラリーはビルエントランスよりエレベーター(4f)でお越しください。
4F
AELU(gallery)
11:30-19:00
Closed on Wednesday&Thursday
*毎週水曜日と木曜日が定休日となります
1F
AELU(restaurant)
Lunch 11:30-15:00(L.O 14:00)
Dineer 18:00-22:00(Food L.O 20:00)
Bar 20:00-22:00(Drinks only)
Closed on Sunday&2days a month
*日曜日の他隔週で月曜日がお休みです。
_
Notice
"10/2 Gallery will move to the 4th floor"
The gallery used to be attached to the restaurant, but will move to the 4th floor of the same building.
This allows the work to be exhibited in a large space.
Since the production can be changed depending on the exhibition, it will be possible to express the world view of the work more.
The concept of Aeru remains the same, and you can experience the close relationship between food and food through the restaurant.
Open is 10/2.
Please feel free to visit us as before.
(9/30 and 10/1 will be closed for preparation)
4F
AELU (gallery)
11: 30-19: 00
Closed on Wednesday & Thursday
1F
AELU (restaurant)
Lunch 11: 30-15: 00 (L.O 14:00)
Dineer 18: 00-22: 00 (Food L.O 20:00)
Bar 20: 00-22: 00 (Drinks only)
Closed on Sunday & 2days a month